AggData and Google Maps Engine are a fantastic pairing to create projects easily and efficiently. Google Maps Engine is a program that helps you publish and work with your mapping data. It is hosted within Google's scalable cloud computing infrastructure, and uses the same basemap services as Google Maps and Google Earth. Once you have downloaded Google Maps Engine on to your computer or electronic device, you can use your AggData to build a map. Follow these instructions to help you begin.
Step One:
Open Google Maps Engine, then locate the Dashboard to the left. Click on the pull down menu attached to the arrow, select "Upload Source Files," to find your AggData.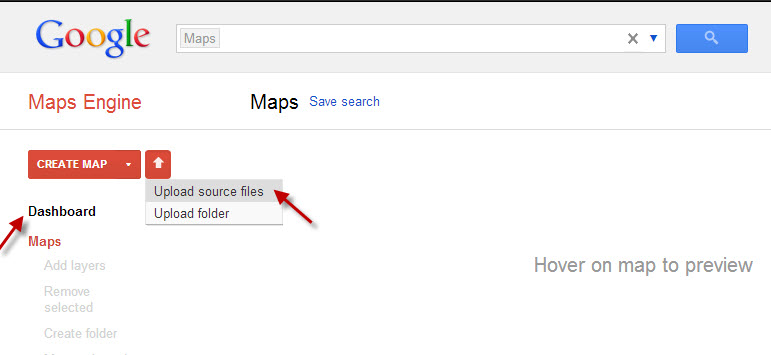 Step Two:
Browse to locate and upload the AggData you would like to use.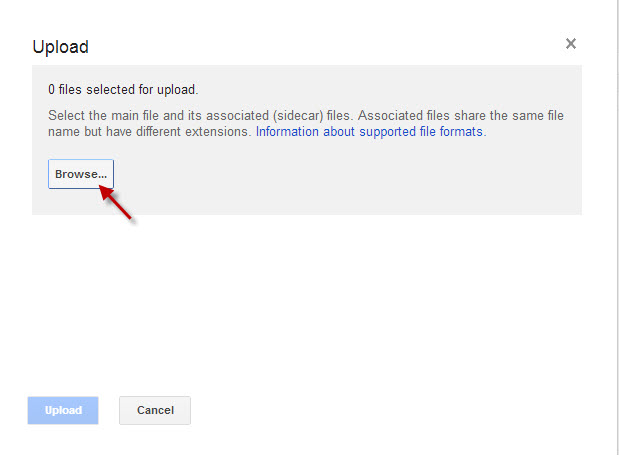 Step Three:
Click on your AggData, and then click "Open."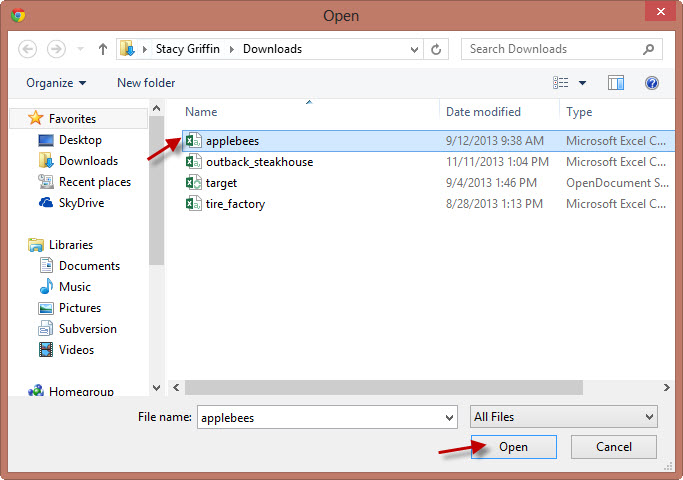 Step Four:
Once the Upload window opens, check that the name, leave or change it, as you wish, then click on "Upload."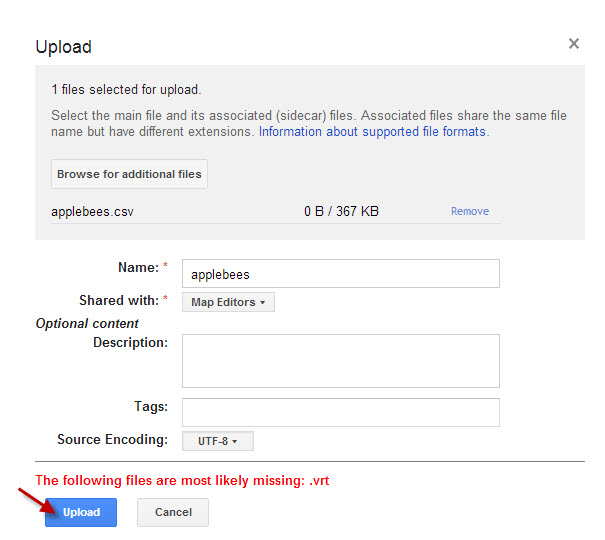 Step Five:
The Vector Table will begin creation. The program will note that you are "Waiting in queue."

Step Six:
Once it says, "Vector table was processed," then click on "Create styled layer."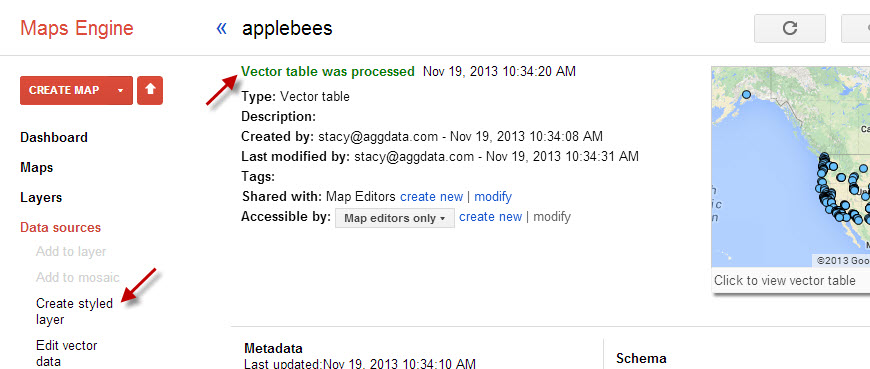 Step Seven:
Name the layer. Then click "Create."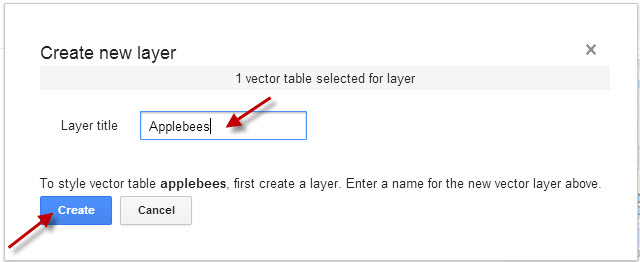 Step Eight:
This will place the layer over a map to display geographical coordinates; however, there are a few more steps to finalize your map. Now click "Exit."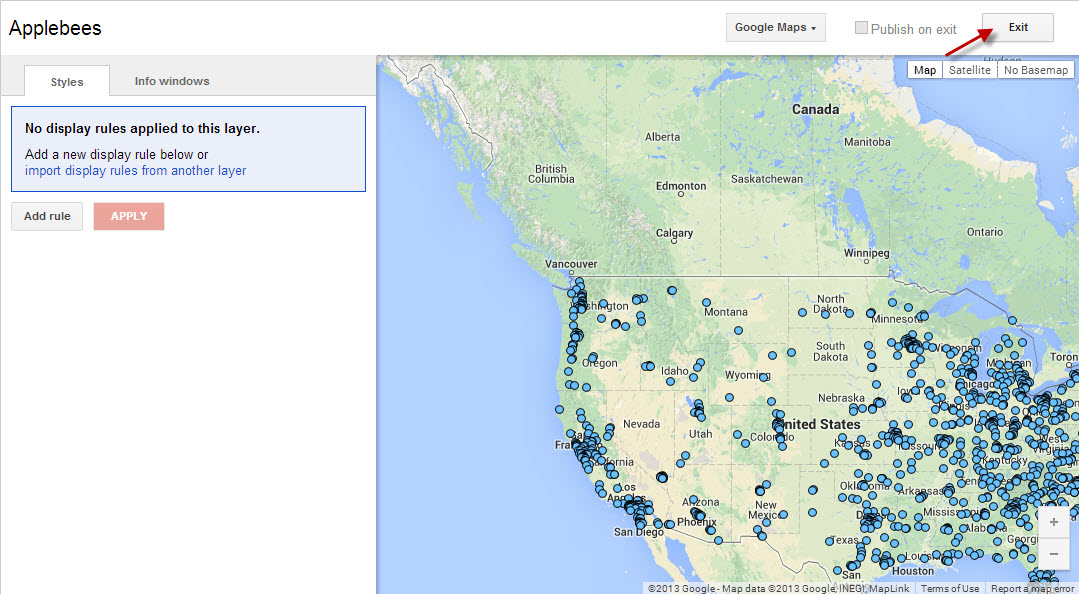 Step Nine:
Click on "Discard Changes" to continue.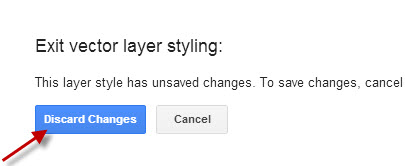 Step Ten:
Now it is time to process the layer you just created. Click "Process now."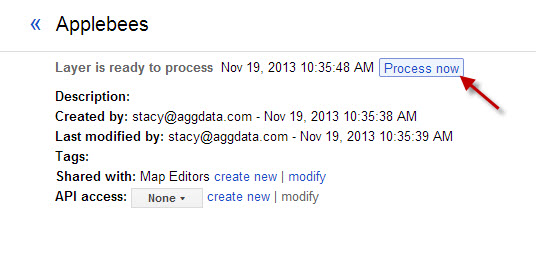 Step Eleven:
Once more take a moment for "Waiting in queue."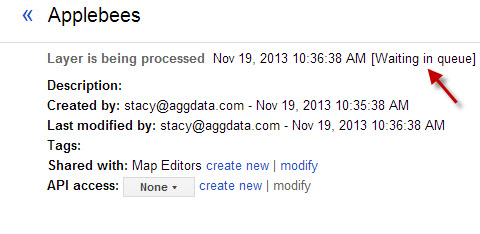 Step Twelve:
Once the layer is processed, then click on "Add to map" on the left.
Step Thirteen:
Title the map, then click "Add to Map."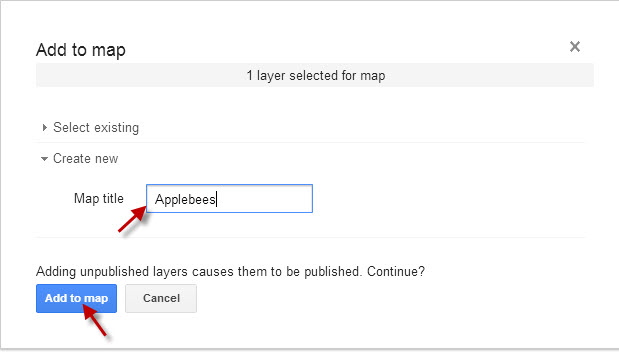 Step Fourteen:
Now the map has been created. Often in order to see the locations you must zoom or scroll in, to see the locations within the layer. Now you can finalize by selecting Publish Map. Many people; however, would like to include more than one layer of information.
(IMPORTANT NOTE: If you want to Add Layers, you will need to follow Steps 1 - 11 for each AggData source you want to include, to assure that the Vector tables are created for each layer.)
If you have appropriately uploaded the other sources, as mentioned, you can click on "Add Layers" to display more AggData on the map.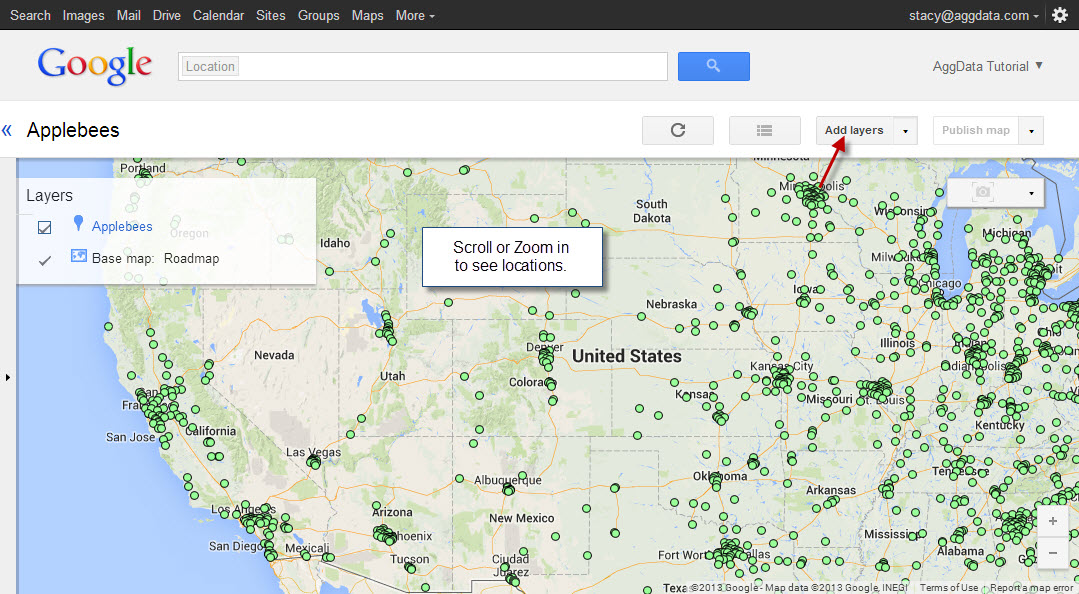 Step Fifteen
The Add Layers button will open the list of available layers. Locate the Vector table you would like to include and click on it.

Step Sixteen:
Now the map will display both of the layers you have requested. Once you have added all the layers you wish to, then you can click "Publish Map" to finalize or save your project.

By following these instructions you can now create maps using your AggData and Google Maps Engine for all of your business and personal needs.