Google Drive is an online program that allows you to create and save projects on the internet. Google Drive can help you create spreadsheets using your AggData which can then be emailed, published, or saved for later use. With the convenience of Google Drive you can now use your AggData literally anywhere you have internet access. Creating an AggData spreadsheet using Google Drive can be accomplished by following these simple steps.
Step One:
Access Google Drive from your computer. If you don't already have it, simply download it at www.google.com/drive . Now open Google Drive and click on "Create" to begin.
Step Two:
Select and click "Spreadsheet" from the drop down menu.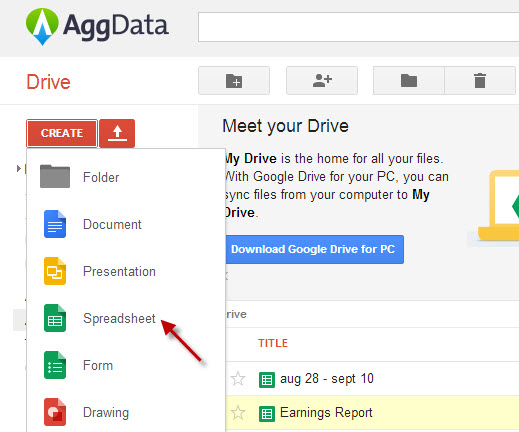 Step Three:
A new untitled spreadsheet will open. Now click on "File". Once the drop down menu appears, click on "Open". Now select "Upload" in order to access your AggData.
Step Four:
There are a few ways you can "Upload" your document. One way is to click on the "Select a file from your computer" button, then find and "Open" your chosen file.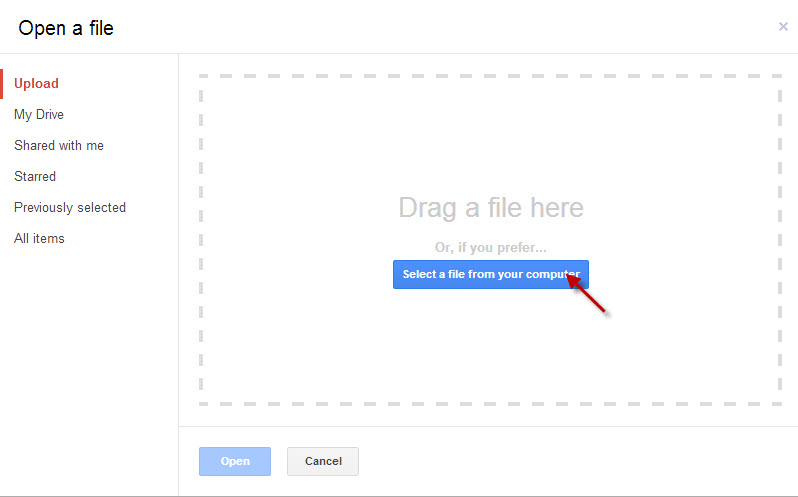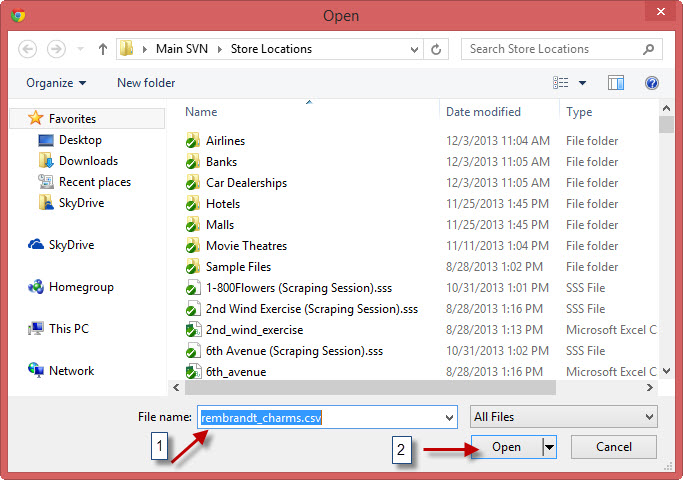 Or you can click and drag the document, from your desktop, as shown below.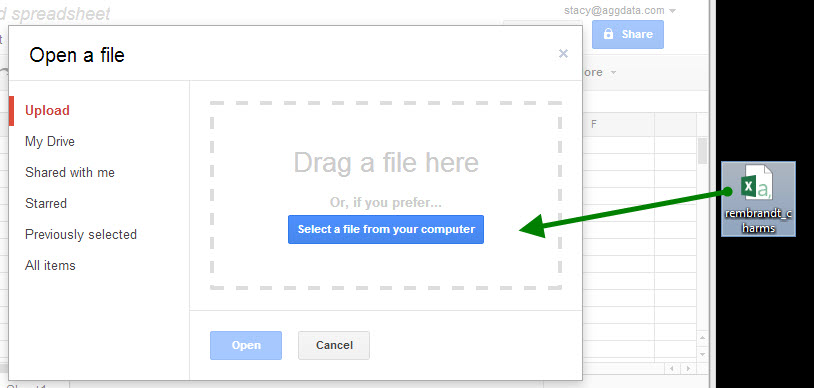 Step Five:
Once you have dragged or opened your selection, the Uploading will begin. Then click "Open" to see the new spreadsheet.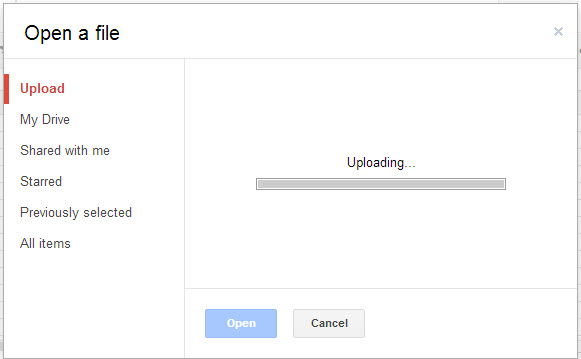 Step Six:
Google Drive will automatically wrap the text. For ease of reading and use, it is easier if you unwrap the document. Find the "Wrap Text" button, and click it to unwrap.
Step Seven:
At this point the spreadsheet can be used in whatever way you like; however, many people want to do more with their AggData. If you would like to Import into the new spreadsheet, or another existing one, first select "File." Then select and click "Import" which will allow you to choose the option to suit your needs.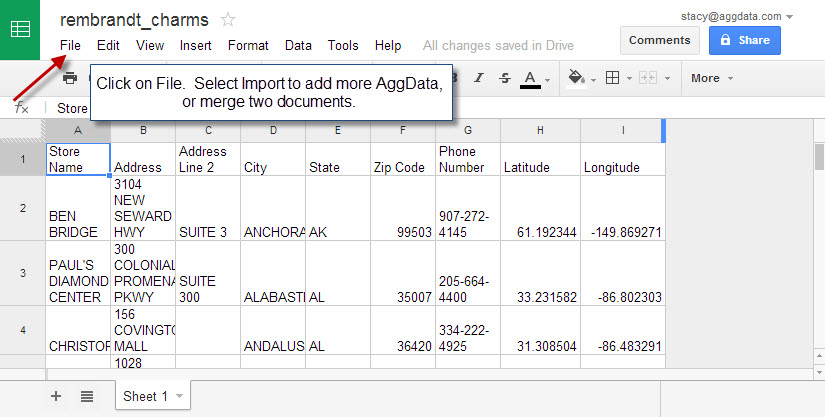 Step Eight:
The "Import file" window will open with a list of your various options. First click on "Choose File" to locate the AggData you would like to include.
Step Nine:
Select your AggData using the search window.
Step Ten:
After a moment the first thing you should notice is the name of the file you just uploaded. Second you need to choose which "Import Action" you would like to make; in this case we are inserting a new sheet. Thirdly, check that the "Separator character" is correct (view the example of the data provided in the window to assure all is well). Finally click on "Import" to complete the action.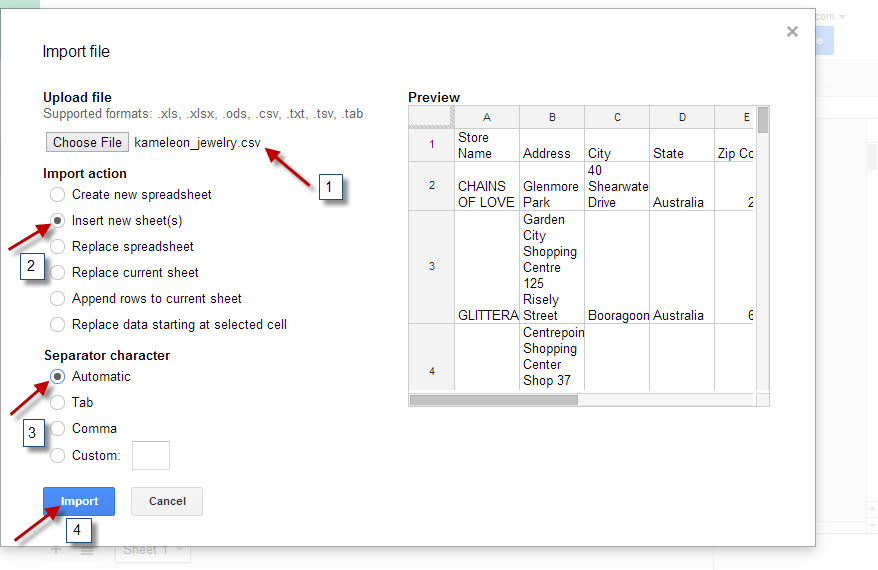 Step Eleven:
Notice in the example that you will now have two sheets with AggData in your spreadsheet. At this juncture you may now use the "File" tab to publish, email, share, or continue importing.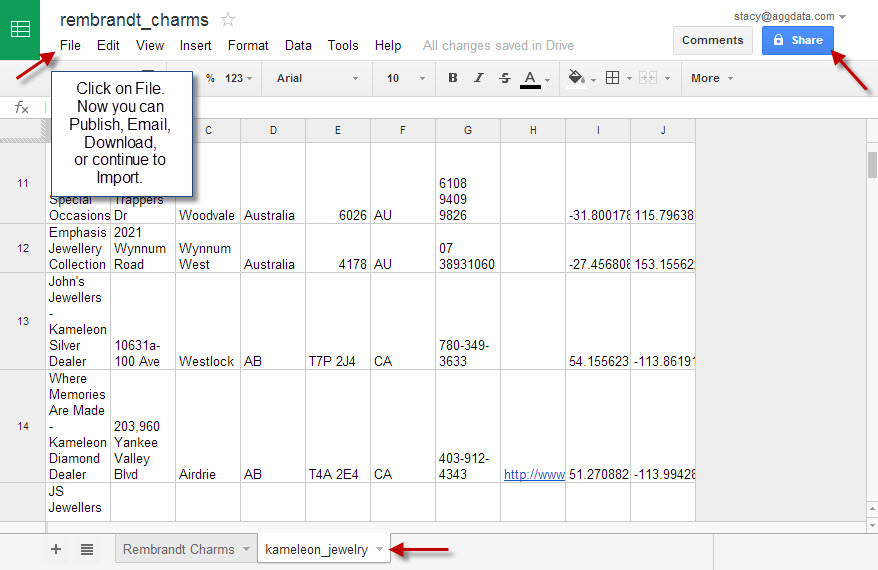 As you can see, Google Drive and AggData work hand in hand to create projects quickly, simply, and professionally for all your business and personal needs.